s h o r t b i o g r a p h y


Themis Palpanas was born in 1973, in Athens, Greece. He spent his childhood years in Athens, and studied Electrical and Computer Engineering at the National Technical University of Athens. At the age of 23 he moved to Toronto, Canada, in order to pursue post-graduate studies. He spent 10 years in North America, shared among Toronto, Los Angeles, and New York, and 7 years in Italy. He now lives in Paris, France, where he works as a full professor at the Paris Descartes University.

Themis Palpanas started making photographic collections in 2003, and developed a particular interest in documenting the way different aspects of life exhibit themselves at specific points in time. He uses digital photography and employees a limited amount of digital processing in order to manipulate the viewer's perspective. He has traveled extensively around the world, and has several collections from North and South America (with a special focus on USA), South Europe, and East Asia.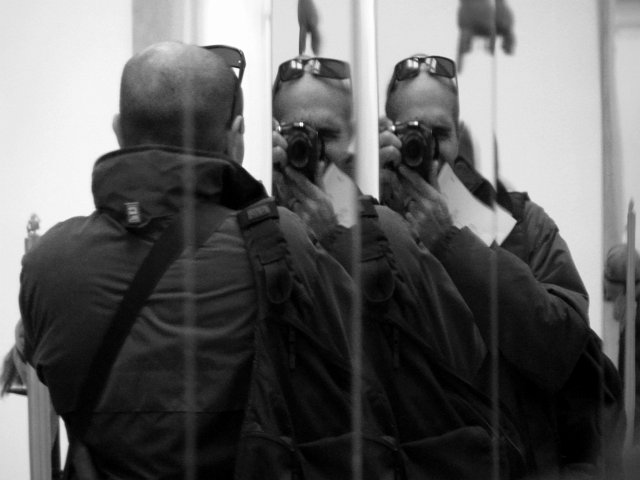 Self-portrait, Venice Biennale, 2007
Themis Palpanas holds a PhD degree in computer science from the University of Toronto, Canada. He has worked in the most prestigious research labs worldwide in the area of computer science (i.e., IBM Almaden research Center in San Jose, Microsoft Research in Seattle, IBM T.J. Watson Research Center in New York), and has gained international recognition in his research area through his publications. He is currently a full professor in the computer science department of the Paris Descartes University (Paris, France).

He has organized the following solo exhibitions:
Domenica, Santa Chiara Cultural Center (Centro Servizi Culturali Santa Chiara), Trento, Italy, March 2014
Window to the World, APSP Santa Maria, Cles, Italy, June 2013
She, Cafe Medez, Athens, Greece, December 2012
Journey Towards Knowledge, University of Trento (Department of Computer Science), Trento, Italy, February 2011
Shadows, Cafe Bertelli, Trento, Italy, March 2008
He has participated in the following group exhibitions:
Shadow Illusions, Arts and Sciences Encounters, Paris Descartes University, Paris, France, February 2016
Shadows, University of Trento (Faculty of Economics), Trento, Italy, May 2008
His photographs have appeared in the following published books:
Reactive Search and Intelligent Optimization, Springer (Roberto Battiti, Mauro Brunato and Franco Mascia), USA, 2009
Encyclopaedia Domi, Tegopoulos-Maniateas, Greece, 2006

contact email: [first name].[lastname] at "gmail.com"